Custom rPET Plastic Water Bottles Manufacturer in China: Eco-Friendly, Reusable, Leak-Proof—best for your promotional events
Recycled rPET Water Bottles to Boost Your Business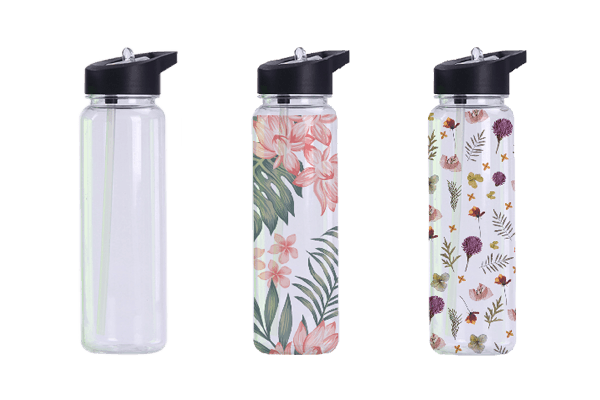 rPET plastic water bottle
Experience eco-conscious hydration with our 700ml rPET plastic water bottle. Designed with a straw, customizable body colors, and unique patterns. Crafted from recycled PET bottles, it's leak-proof and perfect for all beverages. Reuse, refresh, and redefine with Aveco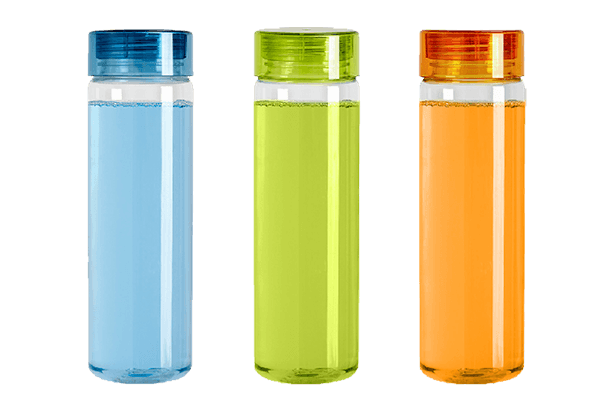 Plastic water bottle with lid
Discover the 550ml Plastic Water Bottle with Lid: Tailored for your daily hustle. Leak-proof and bag-ready, customize its hue and pattern for your style. Durable design, endless refills. Make it uniquely yours, and make a statement on the move.
rPET plastic water water bottle with straw
Unveiling the 710ml rPET Water Bottle with Straw: Eco-friendly meets elegance. Leak-proof, versatile sipping options, and customizable hues and patterns tailored for you. Dive into sustainable hydration, designed uniquely for your taste.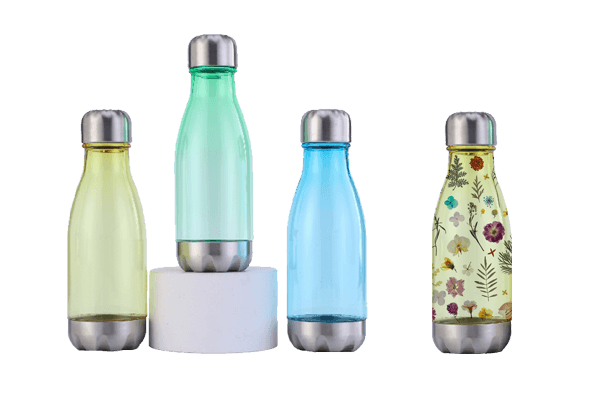 Small rPET plastic water bottle
Introducing the 400ml Small rPET Water Bottle: Compact yet mighty in eco-conscious design. Leak-proof for life on-the-go, and customizable in color and print to resonate with your flair. Quench your thirst in style and sustainability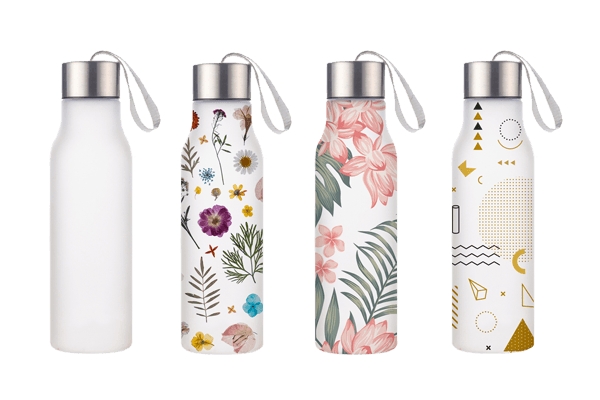 rPET plastic travel water bottle
Embark with the 600ml rPET Plastic Travel Water Bottle: Leak-proof and adventure-ready. Tailor its look with vibrant colors and distinct prints. Journey confidently, quench sustainably, and make each sip an eco-statement on the go.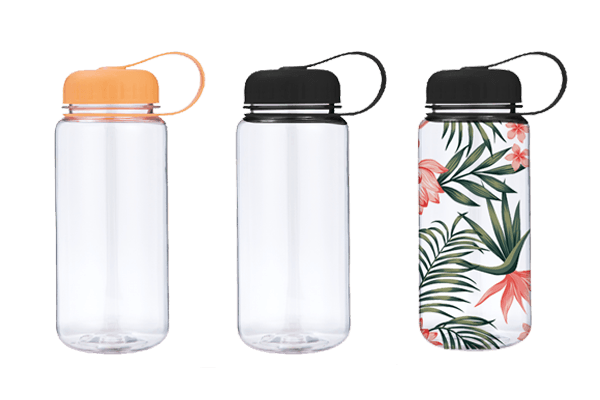 Reusable rPET large plastic water bottle
Quench with the 650ml Reusable rPET Large Bottle: Built strong, sip sustainably. With a straw and lid, customize colors and designs for a personal touch. The eco-choice for lasting hydration, wherever you venture. Your thirst, our mission.
Features of rPET water bottle
Safety
Aveco manufactures rPET water bottles suitable for home, office, and outdoor activities. All our bottles are made from food-grade rPET materials and have received approval from official labs such as SGS, TUV, BST, and so on.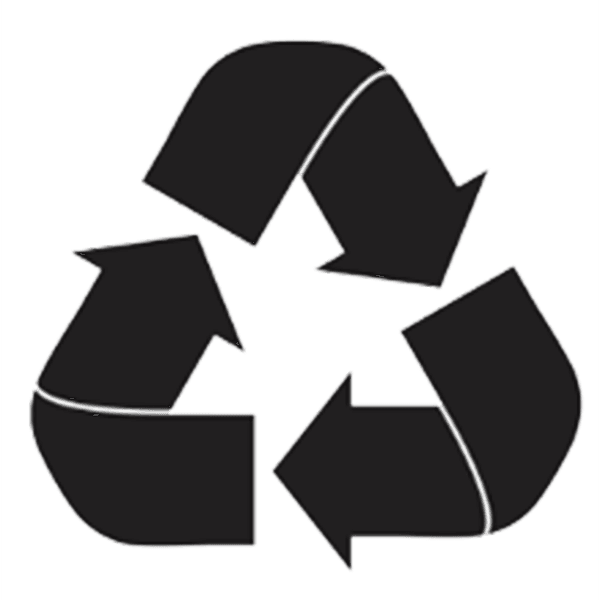 Recyclable
Aveco rPET water bottles are made from recycled plastics, specifically sourced from old plastic bottles. Not only are they created from recycled materials, but these rPET water bottles can also be recycled and repurposed into other products.
Versatile Mold Styles
Aveco rPET water bottles aren't just eco-friendly; they also come in a variety of mold styles to suit different needs and preferences. Whether you're looking for a sleek, minimalist design or something more intricate, we offer the flexibility to match your vision.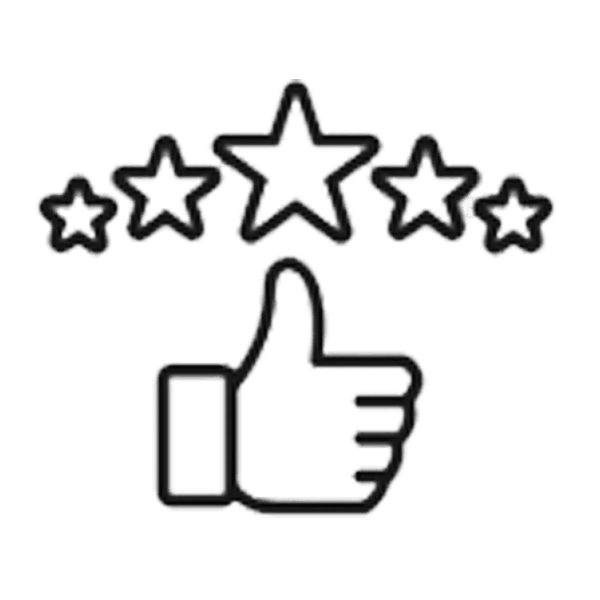 Quality & Support
Choose Aveco's rPET water bottles for unmatched quality and reliable after-sales service. Beyond the sale, our customer support team is always on hand to address any questions or concerns you may have.
Can't Find the Ideal Model of rPET Water Bottle For Your Brand Business?
Aveco provide custom rpet reusable water bottle ,tumblers for all our customers and offer free 3D sketches for mould projects. This means you can fully visualize and customize your rPET water bottle designs to align perfectly with your brand, before the manufacturing process even begins.
Customize Your Sustainable rPET Water Bottle Supplies with Aveco
Aveco manufactures different shapes of  rPET water bottle and lids,covering:
 1.Size: 400ML,500ML, 600ML,6500ML,700ML.760ML…
2. Lids: Choose different lid
3.Shape:Regular shapes, custom shapes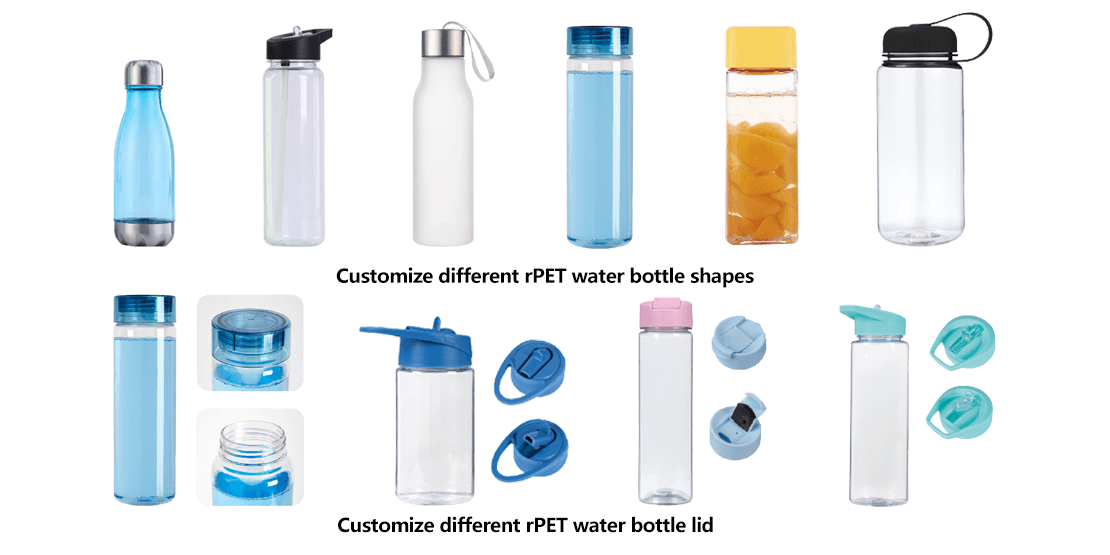 Custom logo, brand and and pattern on rPET water bottle
 Aveco can help you produce your ideal rpet water bottle by customizing:
Color according to Pantone code
Logo on the body or bottom of the bottle
pattern with full wraps 
Other custom requests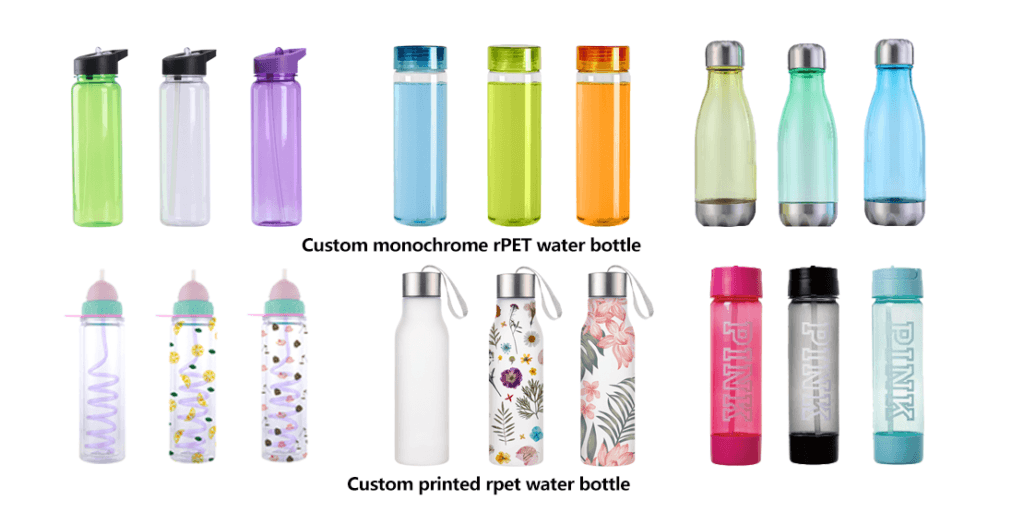 Customize New Mould Procedure
If you desire to customize your rpet cups and other related palstic products, the following gives you ideas on how we handle such customization order procedures.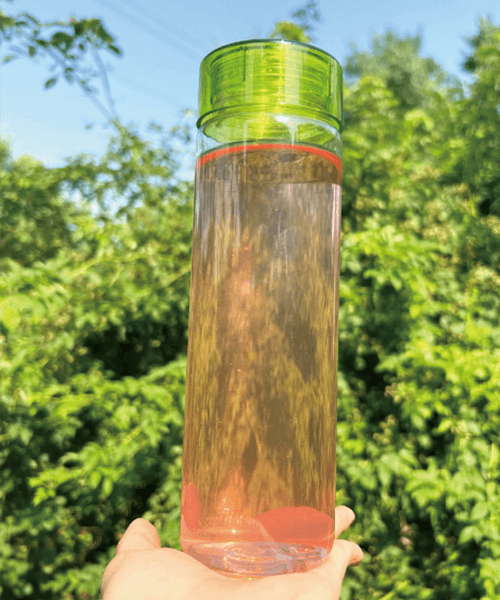 Explore other rPET Products
Why Invest in rPET Water Bottles for Your Business?
Advantages of Introducing Reusable rPET Water Bottles to Your Business
Market Trend & Demand: With a growing awareness of environmental issues, 73% of consumers are more willing to make eco-friendly choices (Nielsen). Brands like S'well and Hydro Flask are already capitalizing on the demand for rPET reusable water bottles.

Brand Image & Reputation: According to an IBM study, 80% of consumers value sustainability. Companies like Lululemon have enhanced their brand image by offering rPET reusable water bottles as part of their merchandise. Companies like Lululemon have enhanced their brand image by offering rPET reusable water bottles as part of their Companies like Lululemon have enhanced their brand image Companies like Lulule

Profitability: The market for rPET products is booming and is expected to reach $12.5 billion by 2027 (Grand View Research). Major retailers like Walmart are increasingly stocking rPET water bottles, tapping into their profitability.

Sales Boost: In 2017, Unilever reported that sustainable goods drove over 75% of their growth. Likewise, fitness centers and gyms are seeing increased sales by offering branded, reusable rPET water bottles.

Future-Proofing Your Business: As regulations around single-use plastics tighten, events like Coachella are future-proofing by offering rPET reusable water bottles, aligning with global sustainability goals.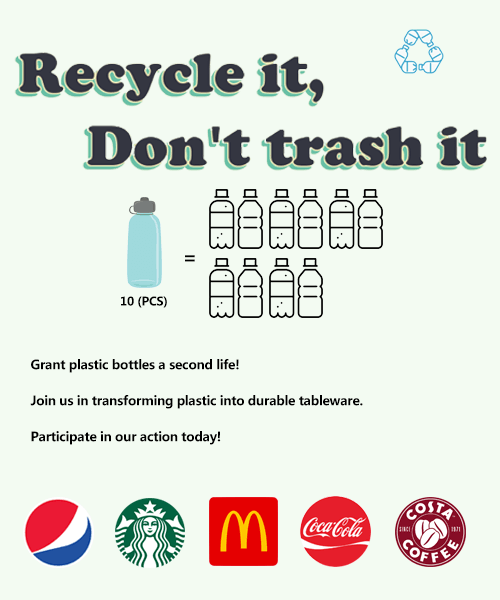 Introducing rPET water bottles into your business today isn't just a step towards the environment—it's a strategic move that can drive your business success and stand out from the competition.
Why Choose Aveco as Your rPET Water Bottle Manufacturer?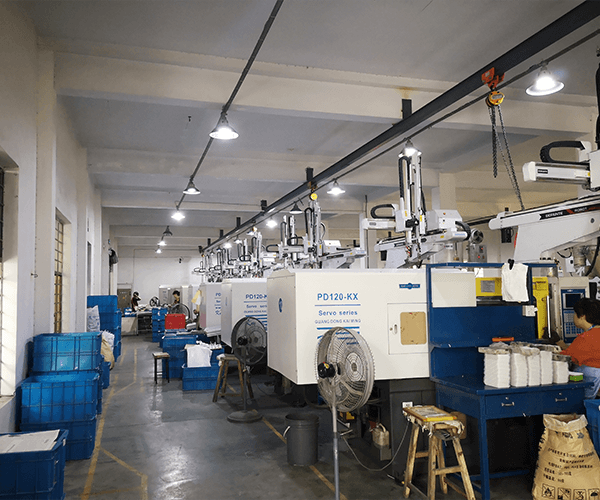 Aveco has been working in eco friendly products industry over 10 years, and we strives to design ,produce and export innovative consumer products over the world.
Wide range of available models of rpet water bottles to choose from.You can simply apply color  or add logo,design on it.
Quick start at low MOQ with fast delivery.
Support OEM recycled plastic cups with rpet,rpp materials.
Support customized eco-friendly packaging for your brand promotion.
Support Free high resolution advertising photos.
Full inspection to ensure the quality of  your branded rpet water bottles.
Delivery to your door and FBA service.
In case of quality problems. Aveco has an strict after-sale service.
Aveco sets themselves apart from most other rpet cups supplier in the market, helping you stay competitive and profitable.
Your Premier rPET Water Bottle Manufacturer in China – Aveco
Aveco is a trusted rPET water bottle manufacturer in China that offers consistent quality and reliable services. All our rPET water bottles are guaranteed to have certifications from international standards including EU, LFGB, DGCCRF, FDA, and more. We ensure that we produce safe-to-use, non-toxic, and hygienic rPET water bottles. As a professional supplier, we customize according to your requirements.
You can always save yourself some money by choosing the most economical express shipping option.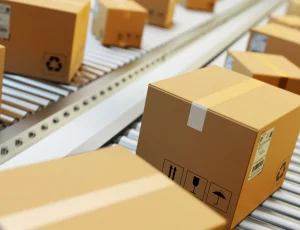 international express
There are two ways to place an order, the recipient places an order and the courier goes to the delivery point to pick up the goods according to the time, the other is the sender directly to place an order online; there are four major international couriers: DHL, UPS, FedEx and TNT, they are efficient and fast, but the courier is DDu, so it will incur additional duties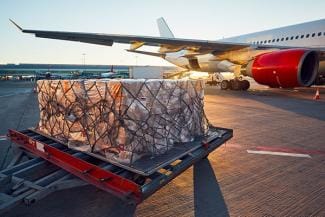 air-express
The parcel is delivered by air. After customs clearance, the Courier picks it up at your door (usually UPS or FedEx) and sends it to your door.  Or you can pick it up at the airport;  Compared with express delivery, it takes longer and has the lowest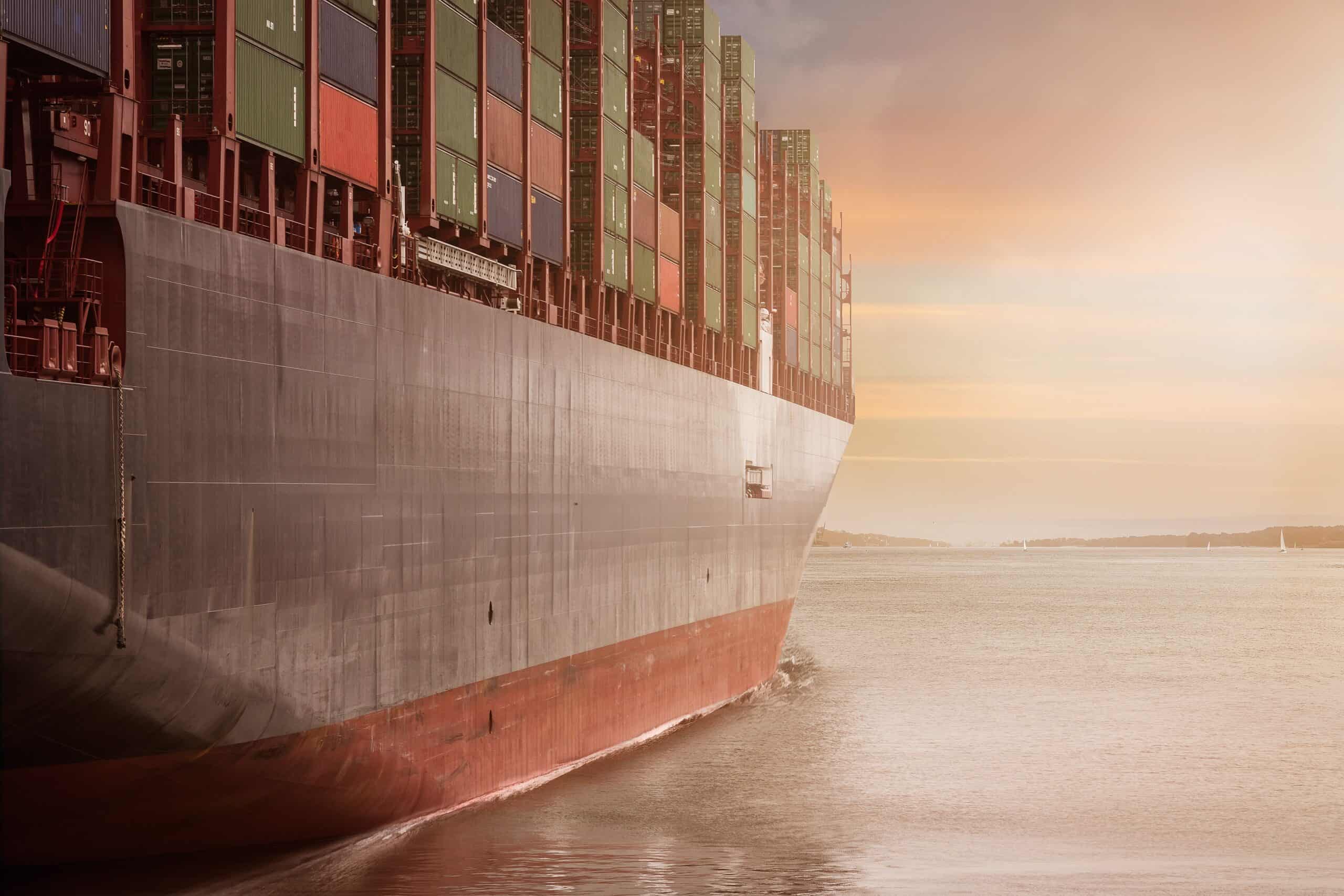 By sea/railway
Generally speaking, shipping by sea/rail is bulky and takes a long time, usually 30-50 days. If you don't mind, we suggest shipping by sea/rail, which can save you more shipping cost. Sea/Rail is the same as express delivery, it can be delivered to your doorstep.
Aveco:One-Stop rPET Products Solution Provider
As a China leading supplier of rPET products company,we will provide one shop solution covering:
rPET Dining solution
rPET Organizer solution
rPET Packing solution
rPET gifts solution 
whatsapp: +130 9591 6115

wechat: +13095916115